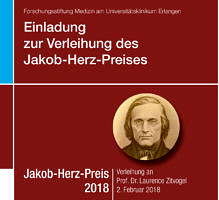 For the fifth time, the Faculty of Medicine awards together with the Research Foundation of Medicine the Jakob-Herz-Prize. The venue takes place on 2 February 2018 at 3 pm in the Faculty's lecture hall (Hörsäle der Medizin).
This year's awardee is Professor Laurence Zitvogel, MD, PhD, scientific directress at the Gustave Roussy Cancer Center in Villejuif, France, and director of group 1 research unit Tumor immunology and immunotherapy of cancer. She is also professor of immunobiology at the University of Paris XI Medical School.
Her career is dedicated to advancing the field of cancer immunology and immunotherapy. Prof. L. Zitvogel's current research is divided into three main areas. First, she is studying different modes of action of immune checkpoint inhibitors and looking for predictors of response to immune-modulation. Second, Prof. L. Zitvogel is trying to characterize how the gut microbiome plays a part in cancer immune-surveillance. Finally, the researcher is working to identify the molecular mechanisms behind immunogenic cell death, a form of cancer cell death that triggers the activation of T-cells toward the remaining cancer cells. Prof. L. Zitvogel is widely recognized for her innovative and widely recognized achievements in the field of cancer immunotherapy.
Further information and registration
Information about honors and prizes at the Faculty of Medicine