Max Planck Society, FAU and UK Erlangen conclude cooperation agreement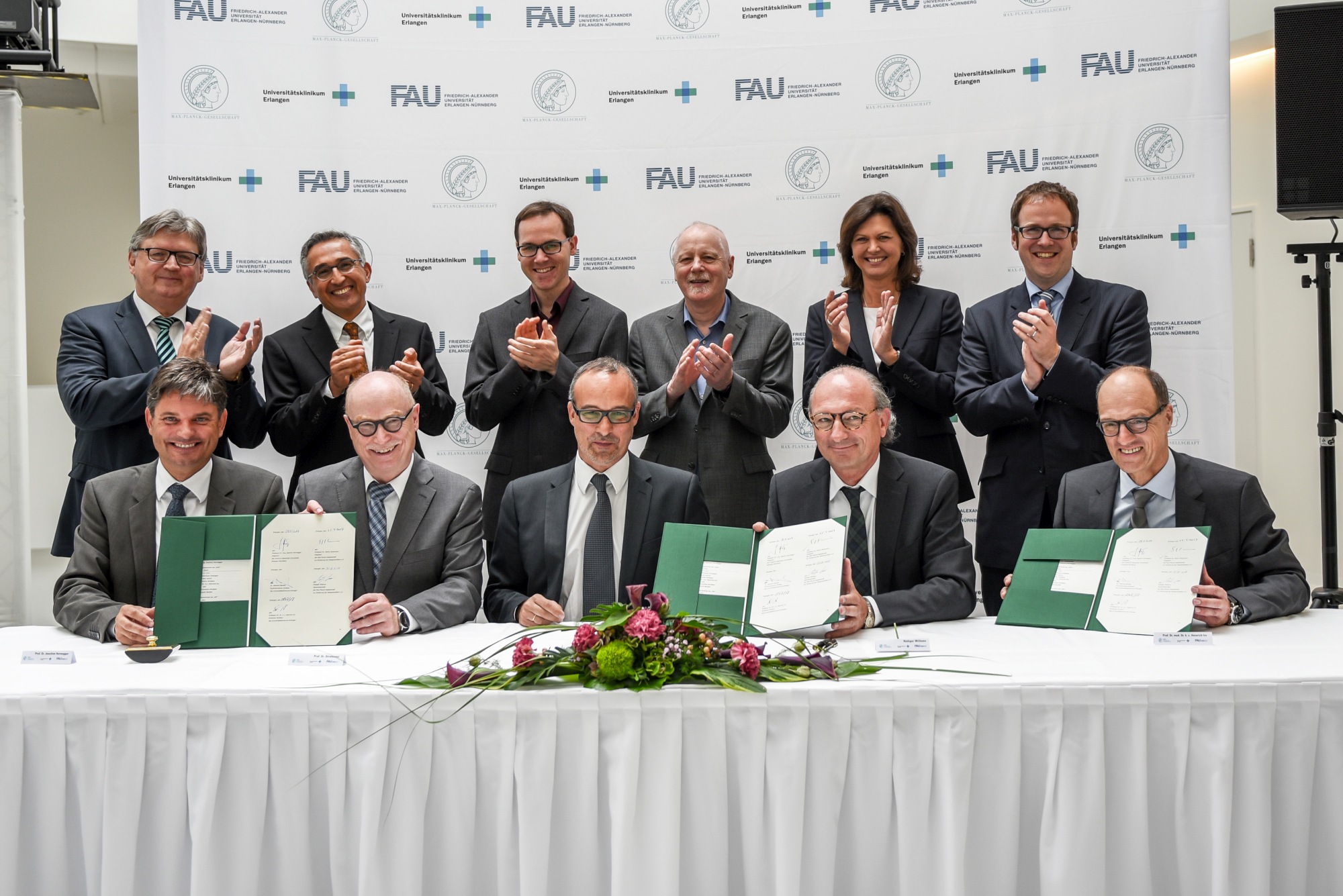 In future, researchers in Erlangen will take into account a little-noted factor in the development of diseases: physics. The Centre for Physics and Medicine (ZPM) is being created in Erlangen to help scientists better understand the mechanical, electrical and chemical processes involved in inflammation and cancer with a view to improving diagnosis and treatment. In the presence of Ilse Aigner, Bavarian State Minister for Economic Affairs, Media, Energy and Technology, representatives of the Max Planck Society, FAU and UK Erlangen signed a cooperation agreement on 25 July 2017. The project is being funded by the Bavarian state government with 60 million euros.
I'm convinced that the Centre for Physics and Medicine will result in first-class scientific achievements – success that can ultimately be measured by medical progress that will benefit humankind – and perhaps us personally.
says Max Planck President Prof. Dr. Martin Stratmann.
Scientists at the Centre for Physics and Medicine will use physical and mathematical methods to investigate changes in cells that affect inflammation and other conditions.
The researchers will measure and model fundamental physical life processes, for example communication pathways and forces between cells in pathological tissue, in entirely new ways. We hope that by shedding light on these processes, we will gain knowledge that will lead to innovative treatments and drugs.
says Prof. Dr. Vahid Sandoghdar, Director at the Max Planck Institute for the Science of Light and one of the initiators of the new center.
This marks a new strategy for medical research, and the researchers have found just the right environment for the approach in Erlangen:
Today's top research requires new paths and innovative forms of cooperation. The Medical Valley − and Erlangen in particular − offer an optimum milieu for this. It is here that a Max Planck Institute was established from university research for the first time in Germany. Now the Max Planck Institute has, in turn, given rise to a unique cooperation between the FAU, UK Erlangen and the Max Planck Society. This allows us to progress from basic mathematical, physical and medical research to direct applications with patients.
says Ilse Aigner, Bavarian Minister of Economic Affairs.
The ZPM will unite two worlds
According to current plans, the center will house a new division at the Max Planck Institute for the Physics of Light, two new chairs for biophysics and mathematics in the life sciences, a chair of medical physics and five new research groups. The state government of Bavaria is funding the center's construction and initial scientific equipment with 60 million euros.
The new center will unite two worlds: physics and medicine. Systemic and reductionist research approaches will meet, supporting outstanding representatives in their discipline and a desire to jointly overcome traditional research concepts.
says Max Planck President Prof. Dr. M. Stratmann. Whereas physicists have been quite successful in reducing a system to such an extent that it allows them to pose precise questions that they can answer by experimentation, doctors have had to proceed systemically: they can only do justice to the complexity of their object of investigation by considering a broader system or even the entire body instead of just a precisely defined biological aspect that is as narrow as possible.
The new Centre for Physics and Medicine will explore physical processes at the interface between two disciplines that play a role in diseases. It will therefore be dedicated to a task that is part of the FAU program: to jointly tackle problem areas with the help of outstanding research teams across disciplines and organizational boundaries. We can expect the new center to produce exciting answers to medically relevant questions in the fields of biophysics, biomathematics and bioinformatics.
says Prof. Dr. Joachim Hornegger, President of FAU.
Towards diagnostics and treatment
The fusion of diverse research approaches and cooperation between very different disciplines will also bring about a change in scientific culture, which is already reflected in the signing of the cooperation agreement, as explained by Prof. Dr. Dr. h.c. Jürgen Schüttler, Dean of the Faculty of Medicine:
The keyword cooperation means that individuals are not muddling along on their own. Instead, each contributes their particular skills, special expertise and innovative ideas to a fruitful, synergistic collaboration. The Centre for Physics and Medicine is interdisciplinary in nature. It combines the expertise of everyone involved beyond subject-specific parochialism, which is still all too prevalent.
Prof. Dr. Dr. h.c. J. Schüttler also points out another important aspect of the center:
At the same time, the Centre for Physics and Medicine is translational, meaning that the research undertaken is clearly orientated towards the diagnosis and treatment of patients receiving care at UK Erlangen.
Even the location of the center, which will be built on the site of the UK Erlangen, symbolizes proximity to patients as a special feature of the project.
The Centre for Physics and Medicine in Erlangen will be unique in the world, as it will bring together physicists and mathematicians close to UK Erlangen with doctors.
says Prof. Dr. V. Sandoghdar. Prof. Dr. Dr. h.c. Heinrich Iro, Medical Director and Chairman of the Board of UK Erlangen, considers the location of the center to be a great advantage of the project:
Basic research and patient-relevant questions can be optimally linked in the new center. The planned building situated among the clinic that deals with neurology, psychiatry and neurosurgery, the eye clinic and the internal medicine center ensures short distances and close exchange between research and clinicians. For our patients at UK Erlangen this means that they will be the first to benefit from the research findings of the new center.
An opportunity for science and industry
The center will not only facilitate cooperation between physicists and doctors and improve medical care for patients. It will also benefit the town of Erlangen.
I'm pleased that we are taking the next step towards this cutting-edge research institute by concluding a cooperation agreement on the Centre for Physics and Medicine. The cooperation between research and applied medicine, which is planned here, is exemplary worldwide and is a great opportunity for Erlangen as a key location for science and research.
says Mayor Dr. Florian Janik.
Ilse Aigner also believes that intensifying research at the interface between physics and medicine and the developing new diagnostic methods could boost the region's economy:
The insights gained can be exploited by the many companies in the region, not just medical technology, and translated into marketable products and services. This will strengthen the innovative capacity of Medical Valley and Bavaria's international reputation as an outstanding research and high-tech location.
Further information
Prof. Dr. Vahid Sandoghdar, MPL