FAU-neuroradiologist nominated for Deutscher Zukunftspreis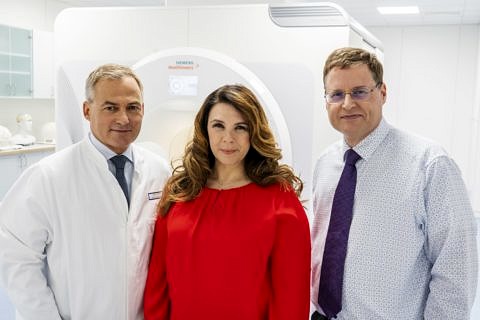 Neuroradiologist Prof. Dörfler involved in developing an ultra high field MRI together with Siemens Healthineers
Prof. Dr. Arnd Dörfler, head of the Division of Neuroradiology, has been nominated for the Deutscher Zukunftspreis 2019. Prof. Dörfler is responsible for clinical research in the team nominated for the award, comprising Prof. Dörfler, the Siemens Healthineers employee Dr. Christina Triantafyllou, and the MR physicist from Heidelberg, Prof. Dr. Mark E. Ladd. The nomination recognizes the scientists' pioneering achievements in the field of research and development. Their success in developing the first ultra high field magnetic resonance imaging scanner approved for clinical use is a global breakthrough for precision medicine. It means that more effective options will now be available to help patients with minute pathological changes to the structures in their brain, which have until now been barely visible using conventional imaging techniques. The jury will choose the winners on 27 November and Federal President Dr. Frank-Walter Steinmeier will present the Deutscher Zukunftspreis in Berlin that evening.
Multiple sclerosis (MS) and epilepsy are among the most common neurological disorders. In Germany alone, more than 200,000 young adults suffer from MS, whilst as many as half a million are affected by epilepsy. Early diagnosis is vital, in particular for MS patients. Only then can treatment be started as soon as possible and the onset of a later disability delayed or even avoided entirely. As far as epilepsy is concerned, there are certain cases where it is essential that epileptogenic foci are identified accurately in order to be able to plan surgery as precisely as possible. However, changes in the brain in the early stages of such diseases are often too minimal to be diagnozed using the low field MRI systems traditionally available in a clinical setting. As a result, valuable time is lost before a diagnosis can be made and treatment commenced.
The considerably greater contrast and level of detail available in images taken using the ultra high field MRI scanner Magnetom Terra from Siemens Healthineers allow even minute changes in the sub-millimetre range to be shown. Furthermore, by using innovative metabolic and functional imaging techniques the scanner can even show pathological changes at the metabolic level, changes which cannot be detected at all using structural imaging techniques.
The scanner's superior performance is based on an innovative actively shielded magnet developed specifically for the Magnetom Terra with a field strength of 7 Tesla, approximately 140,000 times stronger than Earth's magnetic field. Nevertheless, the high-performance scanner only weighs roughly half as much as magnets used to date in research systems, making it easier to transport and simplifying integration into existing clinical infrastructures.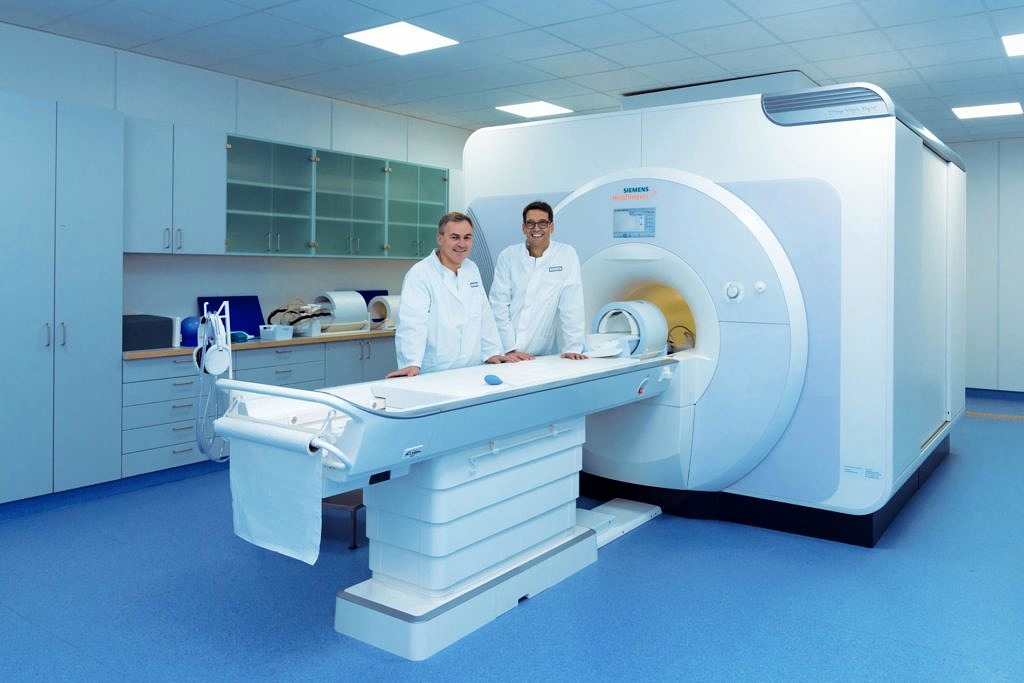 When developing a high-performance machine of this nature, it is vital that the project involves not only engineers and physicists specialising in MR, but also medical experts and clinical researchers from the outset. The interdisciplinary team at Universitätsklinikum Erlangen, led by the neuroradiologist Prof. Dörfler and the radiologist Prof. Dr. Michael Uder, Director of the Institute of Radiology, was involved even during the development phase, and has been a driving force behind the successful transfer of technology ever since. 'The clinical aspect was a major factor in the success of the project,' explains Prof. Dörfler. 'The scanner has been located at our clinic ever since the research collaboration with Siemens Healthineers was launched in 2015. This allowed us to use it on healthy volunteers and patients even during the development stage and our patients benefited greatly as a result. After being used successfully on so many volunteers and patients, the scanner from Siemens Healthineers was the first in the world to be approved for clinical use in the areas of neuroimaging and musculo-skeletal imaging in 2017, on the basis of the data collected in Erlangen.' Prof. Uder adds: 'We are currently working on transferring our findings to other areas of application. Our aim, once more, is to work with engineers from Siemens Healthineers to obtain clinical approval for the scanner to be used for further organ systems. Our focus is not only on depicting morphology, but in particular also on examining functional aspects.'
Prof. Dörfler is of the opinion that it is this translational approach, combining development, research, and use on patients, which underpins their success. 'The 7 Tesla MRI is also significant for us from a scientific point of view. You can't just sit down at a high field MRI scanner such as this and get to work in the same way that you can get into a new car and drive off. Like in Formula1 racing, a machine such as this requires ongoing research and development work. Bearing this in mind, whilst I am a member of the team nominated for the prize, I only represent the joint achievements of many researchers and physicians at FAU and Universitätsklinikum Erlangen, not only my colleague from the Institute of Radiology, Michael Uder, and many other collaboration partners in the clinic, but also specialists in MR physics, represented by FAU professors Armin Nagel, Frederik Laun, and Moritz Zaiss. Finally, this success story would not have been possible without the continual support of the management of the Universitätsklinikum, the Dean of the Faculty of Medicine, and the President of FAU.'
FAU President Prof. Dr. Joachim Hornegger is particularly pleased that a researcher from FAU has been nominated for the Deutscher Zukunftspreis 2019. 'I am incredibly proud that another researcher from FAU has been nominated for the Deutscher Zukunftspreis 2019 after our team of researchers, led by Peter Wasserscheid, Wolfgang Arlt and Daniel Teichmann, was nominated last year. This success demonstrates once again that FAU rightly bears the title of the most innovative university in Germany. The Deutscher Zukunftspreis predominantly recognizes the transfer of research findings to practical applications, in other words the contribution the university makes to social progress and above all to improving life for people in our country and beyond.'
The collaboration between Siemens Healthineers, FAU, and Universtitätsklinikum Erlangen on fundamental and methodological research in the area of ultra high field MRI is to be continued intensively in coming years. Its dual mode functionality allows the user at the scanner to switch directly between clinical and research mode. The system therefore offers the ideal platform for translational research, and means that in future patients will be able to benefit almost immediately from the latest research findings.
The Deutscher Zukunftspreis was established in 1997 by former Federal President Prof. Dr. Roman Herzog. Since then, it has been seen as a symbol of scientific achievement and innovation within Germany. The most important factors considered by the jury are not only research achievements but also the patentability and marketability of the inventions.